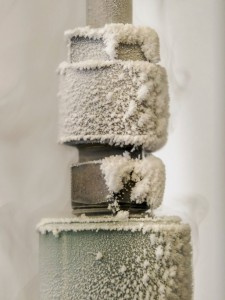 The air has grown chillier, and temperatures are wafting below freezing point. For your landscape, this means it's time to winterize your irrigation system. When temperatures freeze, remaining water within the system can freeze and burst its pipes. Therefore, you will have three options on how to conduct your irrigation winterization.
Manual Method
Some irrigation systems have manual drain valves at their end and low points. These are the first valves to drain out. Simply turn off the water supply and open all of those drain valves. Next, there may be other sections which need irrigation winterization, like the sprinkler heads and the backflow. Open these up as well to let out excess water. You may also need to disassemble the parts to drain them fully. Once you are done, close up all the valves again.
Automatic Method
Alternatively, some irrigation systems have automatic draining. The mainline will still need your manual assistance, though, as it is always a manual device. If you have an automatic irrigation system, you will want to check around it for any malfunctions like a valve that is stuck open or closed. You may also have to disassemble the parts to remove all the water. 
Blow-out Method
The blow-out method may be the most popular approach to irrigation winterization. This way uses an air compressor that pushes the water out of the system through pressurized air. One must be comfortable with using an air compressor, make sure to follow all safety regulations like wearing protective eyewear, and open at least one drain valve. Pressurized air can cause serious injuries, so it is a must to know what you are doing before attempting the blow-out method. The air will cause the water to burst out of the valves and will continue sputtering until no water is left. 
Should You Call a Professional?
If you are not familiar with the terms of an irrigation system, it may be best to leave the job to the pros. Many landscape companies like Edwards Lawn & Home provide blow-out and other irrigation winterization services as the weather gets cold. To protect your irrigation system from breaking before the spring, call Edwards Lawn & Home today!
Choose Edwards Lawn & Home
For the past ten years, Edwards Lawn and Home has been offering premier residential and services to improve your property all year long. The options are endless from a new patio to a backyard fire pit, let the winners of Angie's List Super Service Aware serve you! If you're interested in finding out more about our services or getting a quote, you can contact us online or give us a call at 443-341-6539. For more information about our services or DIY tips and tricks follow us on Facebook, Twitter, LinkedIn, YouTube and Houzz.