Edward's Lawn & Landscaping provides an exemplary leaf removal service for both residential and commercial clients throughout the majority of Central Maryland. Our expert team of lawn technicians and landscaping consultants are the best for the job. We're fast and efficient, using high-tech equipment to restore your yard's aesthetic value and protect your lawn from harm heading into the winter months. Don't let your autumn leaves pile up, contact us today for swift removal!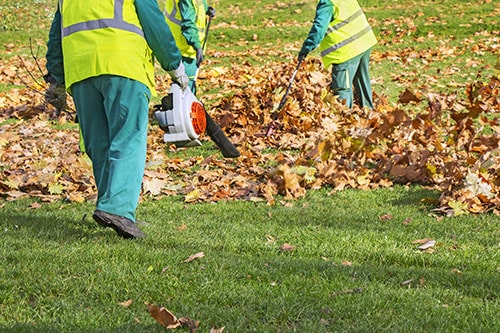 The Impact of Leaf Removal
As fall transitions into winter, piles of fallen leaves remain scattered across your lawn. This undesired accumulation could spark harmful impacts for your lawn, including mold or mildew development. A well-kept, and cleaned-up yard will boost your home's aesthetic value and upgrade the curb appeal. Efficient leaf removal holds a tremendous impact, and we're here to help. We use powerful and efficient commercial backpack blowers, wheel blowers and leaf vacuums to optimize productivity and finish your lawn quickly. Gain your weekend back and let Edward's Lawn & Home take care of your leaf removal.
Our Process, Timelines, and Rates
Edward's Lawn & Landscaping will remove all unwanted foliage efficiently and with eco-friendly tactics. We recommend scheduling three removals throughout the fall season, each spaced out every two or three weeks from November into December. However, customers may also opt for one extensive leaf clean-up in December to collect all leaves and debris at once. You will be emailed a detailed invoice with dates and onsite times upon completion of service as well. All details of your service are digitally tracked, and our trucks utilize GPS tracking for accurate billing.
Typically, leaf removal for a standard half-acre residential lot will take between 1-3 total hours to complete with a crew of 3-5 workers. This estimate varies based on how many trees are in your yard, the number of accumulated leaves, and the weather the day of. Our team collects all leaves using large commercial vacuums and recycles the debris in an eco-friendly at an off-site location.
For more information about leak removal or general yard clean-ups, please
contact us
today!