Are you eager to have a full, thick, green lawn? Our professional lawn rejuvenations and grading services may provide the answer! Just like any living plant material, your lawn requires a variety of conditions to enable it to thrive. Edwards Lawn and Landscaping is the best source for lawn rejuvenation, grading, and lawn maintenance services. Here are a few reasons why: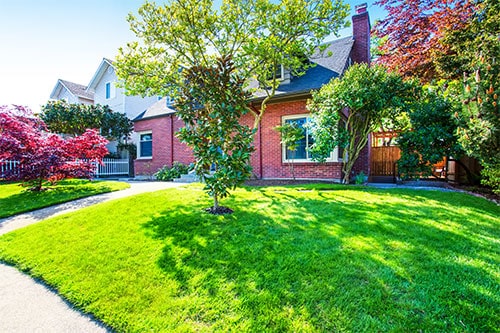 Maintaining a Luscious Lawn
Many homeowners struggle with creating and maintaining a luscious green lawn. Edwards Lawn and Landscaping can help solve problems like:
Brown spots on your lawn,
Grubs and pest control,
Sparse, thinning, or bare patches in your lawn,
Weeds like chickweed, crabgrass and even mold spores,
Standing water and drainage issues,
A variety of lawn problems and challenges
Our crew of lawn technicians and landscaping consultants work together with strict attention to detail to bring your lawn back to life and guarantee lasting results. In addition, we provide routine
lawn mowing and maintenance
to keep your lawn looking great! Ready to learn more?
Contact us
today!
Dressing Up Your Lawn
Some lawns need a little dressing up and we utilize Leafgro® organic soil conditioner to improve the soil and enhance your lawn. This soil amendment not only benefits your lawn, but it also benefits the environment! According to the Maryland Environmental service, Leafgro® is an outstanding example of recycling at its best!
Another way to dress up your lawn is by adding a thin layer of top soil over your lawn. This helps improve the soil, without harming the existing turf. Top dressing can also resolve bare spots, heat or drought damage, drainage issues, and more!
The Rejuvenation Process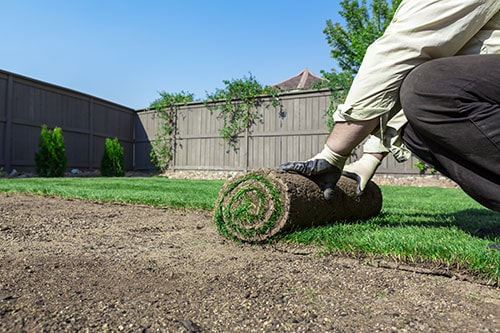 There are many distinct methods for a successful lawn rejuvenation, and our approach depends on the severity of your lawn. If your lawn is extremely damaged, our team may recommend cutting out everything and installing new sod or seed throughout the entire yard. In less severe circumstances, we may de-thatch your lawn to remove any debris buildup atop the soil surface, aerated, top dress and finalize by overseeding. Each rejuvenation project is conducted on a case-by-case basis. All estimates are FREE, and we offer complimentary on-site appointments with any of our professional landscape consultants.
How We Can Rejuvenate Your Lawn
We evaluate your lawn's condition to determine the best approach. We remove dead grass and roughen the soil, then apply new seed with a drop or rotary spreader. We ensure the seed is integrated into the dirt with either a lawn roller or other equipment. After the rejuvenation process, it's important to keep the lawn moist and fertilized it with a high-phosphorus seed-starting fertilizer. We provide ongoing lawn maintenance and lawn fertilization and weed control to ensure that your lawn looks great long after your lawn rejuvenation services are completed.
After each lawn rejuvenation and grading service, we will spread new grass seed and fertilize the yard as need be to re-establish new grass. As a final touch, we will either spread a thin layer of straw, or roll out straw mat or curlex blankets across the lawn to keep everything in place and defend against erosion. When you need attentive landscape drainage and grading solutions, Edward's Lawn & Landscaping is here to help! We're an asset for homeowners throughout Central Maryland, with a reputation for excellent customer service. For more information, please
contact our office
today at
443-341-6539
to schedule your FREE estimate with one our of professional landscape consultants!