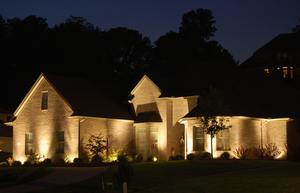 One of the best parts of summer is spending time outdoors. For many, this includes enjoying activities like gardening or playing in a pool, but it could also be as simple as sitting down to eat dinner al fresco with friends and neighbors. If your landscape lighting is lacking, however, the setting sun can cut your outside fun short. This lack of illumination becomes even more apparent as the days start getting shorter and we move into fall. Wouldn't you love to be able to relax in your yard into the evening hours? With proper landscape lighting, you can.
Types Of Lighting
There are three major types of lighting that you should have for any space: ambient lighting, task lighting, and accent lighting. Each of these types of lighting will be different because they accomplish different tasks. Task lighting provides adequate illumination for your activity, while ambient lighting sets a mood, and accent lighting illuminates key aspects of the space. Using a combination of them makes the area feel complete.
Size Of Space
One of the first things you need to think about is how much space you need to light. A good rule of thumb is to take the square footage of the space and multiply it by 1.5 to determine the total wattage you need.
Use Of Space
A big part of your lighting decisions will come down to how you use the space. If you have an outdoor kitchen, you're going to need enough light to prep, cook, and clean. If you're only eating outside, you won't need as much task lighting, and you don't want the general illumination to be so bright that it ruins the ambiance. You will still need lighting for safety and security, however, so don't forget about potential hazards like paths, steps, and water features.
LEDs
When you're planning your landscape lighting, opt for LEDs. They are a much better choice for the environment and your wallet. They use less energy than incandescent or even halogen bulbs. You also won't have to change LED bulbs as often, making them much easier to maintain.
Looking Out
As you plan your landscape lighting, don't forget to plan the view from inside the house. Think about the setting you want to see from inside the house, and remember to make sure to not blind people indoors with those outdoor lights.
Choose Edwards Lawn & Home
For the past ten years, Edwards Lawn and Home has been offering premier residential and services to improve your property all year long. The options are endless from a new patio to a backyard fire pit, let the winners of Angie's List Super Service Aware serve you! If you're interested in finding out more about our services or getting a quote, you can contact us online or give us a call at 443-341-6539. For more information about our services or DIY tips and tricks follow us on Facebook, Twitter, LinkedIn, YouTube and Houzz.